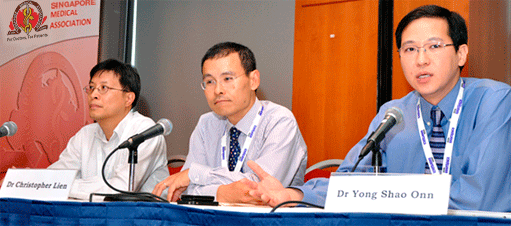 Dr Yong Shao Onn
Senior Consultant Ophthalmologist
Cataract & Retinal Specialist
BSc (Hons 1st)
MBBS (Distinction),
M.Med (Ophth),
FRCSE, FAMS
Retinal specialist
Dr Yong Shao Onn completed subspecialty training in both Surgical and Medical Vitreoretinal diseases in Singapore and at the University of Toronto, Canada under a Ministry of Health HMDP Scholarship.
As a retinal doctor, his clinical interests are in vitreoretinal conditions such as retinal detachments, vitreomacular interface disorders (macular holes and epiretinal membranes (ERM)), age-related macular degeneration (AMD), retinal vein occlusions (BRVO & CRVO), diabetic eye disease and myopia control.
In addition to being a retinal surgeon, Dr Yong also specialises in phacoemulsification cataract surgery and management of complicated cataracts / complications of anterior segment surgery as well.
In his earlier training, Dr Yong graduated from the Royal Free and University College Medical School, University College London in 2000 with the degrees of Bachelor of Medical Science with 1st Class Honours, and MBBS with Distinction.
He completed his General Ophthalmology training in 2008, and was admitted as a Fellow of the Royal College of Surgeons of Edinburgh, as well as the Academy of Medicine Singapore.
Dr Yong is also trained as a comprehensive ophthalmologist with extensive experience in treating other eye diseases.